Marvel's Jessica Jones
After a tragic ending to her short-lived super hero stint, Jessica Jones is rebuilding her personal life and career as a detective who gets pulled into cases involving people with extraordinary abilities in New York City.
Creator:
Melissa Rosenberg
Fist Air Date:
2015-11-20
Production Companies:
Tall Girls Productions, ABC Studios, Marvel Television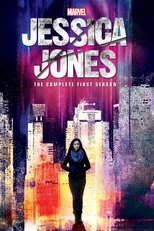 Season 1
13 Episodes
Air Date: 2015-11-20
Haunted by a traumatic past, Jessica Jones uses her gifts as a private eye to find her tormentor before he can harm anyone else in Hell's Kitchen.
Season 2
13 Episodes
Air Date: 2018-03-08
Drowning in anger, Jessica Jones is forced to reckon with her past, her powers and her newfound fame as she dishes out her own messy form of justice. Finally ready to face her past, Jessica hunts down the source of her powers and uncovers a link to a shadowy killer who's terrorizing the city.
Reviews for
Marvel's Jessica Jones